HostNEMO makes owning a Site Simple - Kolkata
Friday, 27 July 2012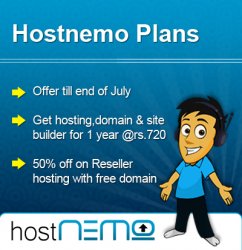 Item details
City:
Kolkata, West Bengal
Contacts

HOST NEMO

1-800-3070-5888
Item description
Having an online entity is quintessential for any business owner in today's times. If you do not have a website you are losing on significant sales proposition. But there are many hassles of owning a site. Thankfully HostNEMO has taken most of these out of the equation. Let us analyse the barring factors and assess how HostNEMO helps in these respects:

Prices: Though HostNEMO has always been in favour in keeping their domain hosting affordable to tell the least. Yet they are offering a discount of 50% for the reseller web Linux hosting. With this offer you can enjoy superior domain hosting services and support from HostNEMO at half their original prices.

Easy Sites: If you take up the Linux hosting package worth Rs. 720 then you will get a RV Site Builder and free domain. With the free domain you can start building your online entity. If you are less tech-savvy then the RV Site Builder with its easy features will be much helpful to you. It will allow creation and designing of websites with some simple options. Managing websites is also simple with this control panel.

Offers available at HostNEMO are applicable till the end of July. So rush to www.hostnemo.com today.