Half Prices, Best Quality web Hosting Services - Kolkata
Friday, 3 August 2012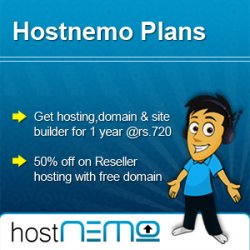 Item details
City:
Kolkata, West Bengal
Contacts

HOST NEMO

1-800-3070-5888
Item description
HostNEMO, a premier web hosting company in India is offering a lump sum discount scheme for the resellers. With the help of this scheme resellers can increase their profit margins significantly. The company wants every reseller to prosper with their high quality linux web hosting services. The reseller hosting packages comes with a 50% discount scheme.
You can rely on the domain hosting services of HostNEMO entirely. They have 24X7 customer support minimising the hassles for web masters. You can contact the company as soon as you have a problem, round the clock. HostNEMO also offers 99.9% uptime minimising the waiting time for site surfers. This is an interesting array of offers no doubt.
The discount scheme is a time limited offer that will expire very soon. Do not let this profitable proposition pass you by. Visit www.hostnemo.com today.