Remote Controled Fan Switch with Regulator Display - Kolkata
Sunday, 12 July 2015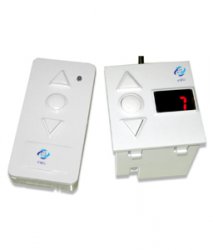 Item details
City:
Kolkata, West Bengal
Contacts

Gobinda

7278593737
Item description
"This is a 2 Modular Digital switch for 1 Fan with Digital regulator ( CAPACITOR type 7 Step hum free ) along with Remote Control and can be Fixed or Replaced Directly into the space provided for a 2 Module. No Alteration Required while Installation. Even Fan speed Digital Display can be viewed accordingly.
Our product features and benefits are listed below for your kind-reference.
• 1 fan Control with Regulator along with Digital display with remote
• Remote Signal Receiving Indication
• Built In Memory
• Full Function Remote Control
• Remote Operating Distance up to 40-70Ft
• Reduce Your Electricity Bill by putting off Lights immediately with remote control when not needed
• Remote operation prevents us from Risk of electric shock and Short Circuit.
• No Alteration Required to your existing wiring while installing our unit.
• Easy Installation
"