Automatic water tap - Kolkata
Tuesday, 7 December 2010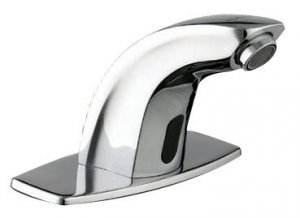 Item details
City:
Kolkata, West Bengal
Contacts

Mr. Krisanu Chakraborty

+91-9231896637
Item description
•Auto Tap can save up to 69% water when washing dishes by hand and up to 75% when rinsing dishes prior to placing them in a dishwasher.
•Touching the faucet with dirty or soapy hands necessitates washing , rinsing and wiping of the faucet. If not wiped clean, the evaporation of excess water leaves calcium and chlorine build-up which speeds up the
•corrosion of the faucet and creates an unpleasant scene.
•Once Auto Tap is installed, there is no need to touch the faucet to get the water running. The result is a cleaner faucet and its surroundings.
•Automatic Tap (Faucet):
•Sensor Taps : Sensor taps are the automatic taps that can be easily be used in washrooms of hospitals, offices and air ports. They are so easy to install that we can put them without drilling the wall. They are so well designed that they can control infection and can save water and energy both. They have safe self locking system which locks after 1 minute of water supply thus avoiding the wastage of water which was previously 50 to 80 percent during washing hands and brushing.
•Sensor taps are very hygiene because there is no fear of germs contact and cross contamination. Normally, we would often forget to turn off the taps in our bathroom and on the basins which leads to enormous wastage the water. To overcome this we should use sensor taps which operate on mere hand movement in the air – water starts to flow down as and when hands are put close enough to the tap to sense it. They also have liquid level indicators which produce sound to signal a person that water in the basin has reached to certain level and that tap should be switched off.
•Sensor taps can be operated in two ways: First one is by Electrical, in which we have to put our hands close to the ray sensor to let the tap dispense water immediately. In this there is no electronic button or touch to start the tap. It has distance sensing systems which are fully automatic. Second one is by Battery; in this also we have to put our hands close to the ray sensor to have water. It has power supply from stabilized power supply and 12V rechargeable battery. It has automatic commutation from 230V to 12 DC which makes sure that there is water supply in the case of power cut.
•Features of Sensor Taps: It is designed in such a way that it is clean and hygienic.
It stops automatically after a time gap and hence we can save water.
It is easy to operate, easy to install and easy on maintenance.
It has sensing system which works from the distance of 17cm.
It is very much beneficial for hospitals and public washrooms
•Power Voltage: AC 220 volts / DC 6V (4 x 1.5 V)
•Detection Zone: 17 cm standard.
•Water Pressure: 0.05 -0.7 Mpa
•Ambient Temperature: 0.1 - 45 degree Celsius
•Diameter of Inlet/Outlet Pipe: G 1/2".
•Power Consumption : 0.5 mW.