When you are in dire need of cash. - Kolkata
Thursday, 7 July 2022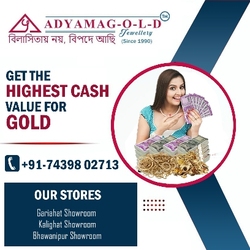 Item details
City:
Kolkata, West Bengal
Contacts

Adyama Gold

7439802713
Item description
When you are in dire need of cash, what is the easiest way to bail you out?

You can hope for asking for a loan from the bank, or hope to get some money out of some means with an exuberant rate with a really silly timeframe.

Or, you can just use your broken and unused gold that is lying around in the locker in your home, and use it to unlock the real value of the precious metal.

Now the question that arises is, who can you trust with such a precious task?

And for that we Adyama Gold Jewelers are here to take care of your troubles, once and for all. After all, we are one of the oldest and most trusted gold buyers in Kolkata. And we do have our reasons to claim so. with our latest top-of-the-line multilevel Xrf Machine to determine the value of your gold and the guarantee of the best buy back, where we will match the best price you can ever find.

So, the next time you are planning to raise some money and sell your used gold, you visit us at www.adyamagold.com for more information.